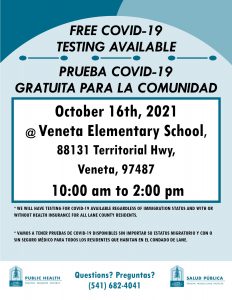 There has been a recent increase in the number of COVID-19 cases in our student population.  As our goal is to keep kids at school for in-person learning, we have partnered with Lane County Public Health to offer a free "DRIVE-THROUGH" testing clinic this Saturday 10/16 from 10-2 in the Veneta Elementary School parking lot.   
As the seasons change many of our students are coming down with 'mild symptoms' like runny noses, coughs, and sore throats.  These can be symptoms of a 'regular cold' and can sometimes also be symptoms of COVID-19.   We experienced students coming to school with minor symptoms for several days then ended up being COVID-19 positive this week. We'd like you to take the opportunity to do a free drive-through test this weekend if you or your child are having any cold-like symptoms or have been around anyone who has been sick.   This clinic will also be available for anyone who is NOT having symptoms but would like to be tested "just to be sure". 
Anyone in the community can go to this clinic. The test is a swab in the nostril and the results will be called to you in 3-5 days. There are no insurance or ID requirements to get tested.