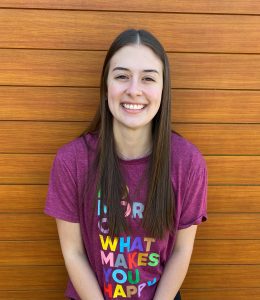 The ever changing environment of the past year has created an opportunity for our March Employee of the Month, Emily Bliven, to shine and take a leadership role at Veneta Elementary.
Emily has been a kindergarten teacher in our district since August of 2018.  In her three years she has already made a big impact!
As online learning became a reality, Emily stepped in with both knowledge and patience as staff members sought help for technology training.  From our PE teacher to our principal, staff at VES have turned to Emily for help.  She's always willing to drop everything to take care of any request.
Emily has taken on a leadership role this year by serving on the re-opening committee and serving as the union representative for VES licensed staff.  She also lends a hand on the Talent Show Committee, Earth Day Committee and the Equity Committee.  In the classroom, she tells us she loves getting to build relationships with students and witness their learning in action.  She also enjoys learning from and collaborating with her co-workers "who make me a better teacher."
When she is not teaching, helping out another staff member or serving on a committee, Emily is busy completing her Masters Degree and planning a July wedding with her fiancé, Chase.  She loves to be outdoors walking, hiking, playing with their one-year old retriever, Revel, reading and spending time with family and friends.
Congratulations Emily and thank you for always being willing to lend a helping hand to your VES team!
One Response to March Employee of the Month