Following review of recommendations by the Advisory Committee on Immunization Practices (ACIP) and the Centers for Disease Control and Prevention (CDC), the Western States Scientific Safety Review Workgroup has confirmed that pediatric doses of the Pfizer COVID-19 vaccine for children are safe and effective for children ages 5 through 11.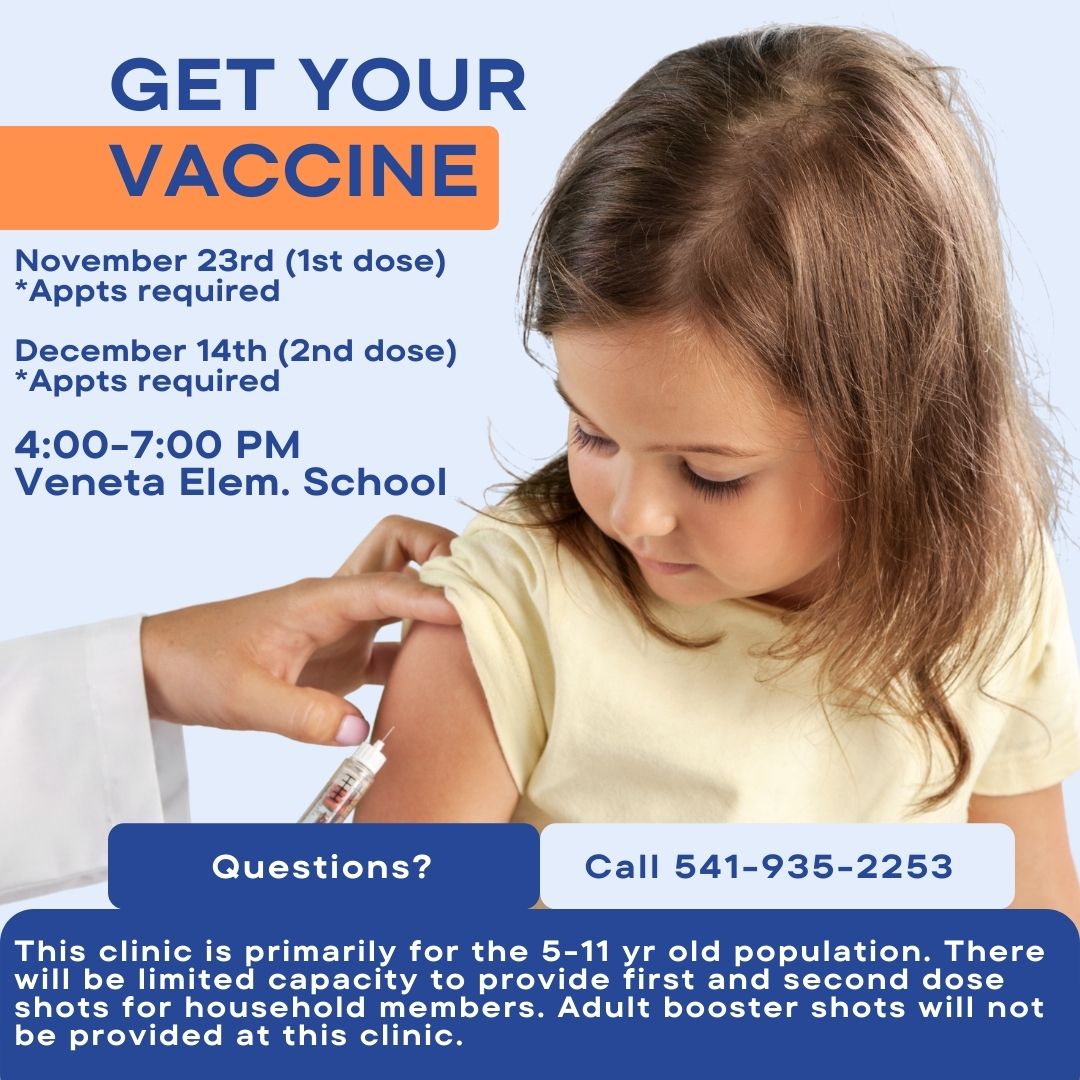 Fern Ridge School District has worked with Lane County Public Health to secure a vaccination clinic in our community.
FRSD CLINIC DETAILS: 
November 23rd and  December 14th  4pm-7pm at Veneta Elementary School GYM/Cafeteria  
Sign ups are required and will begin on Friday, Nov. 19th through an online portal. To schedule a vaccine appointment visit LCPH website . Use code FRSDKids

There will be approximately 150 total slots in the 3 hour time slot.

Vaccination Clinics will be put on by Lane County Public Health  and will be primarily for 5-11 years.   There will be limited supply for siblings outside of this age category/parents in the same household. 
Masks will be required at the clinic
Booster shots will NOT be available at this clinic.

As with any shot, please plan to stay for 15 minutes after receiving the injection to monitor for any immediate reaction.

Clinics will be held 3 weeks apart as is the recommended vaccination schedule.

Children ages 5 to 11 will receive one-third of the adult dose of the Pfizer vaccine using smaller needles designed for children. To become fully vaccinated, the child will need a second shot of the Pfizer vaccine three weeks after their first shot.
The vaccine is free. No health insurance is required, and it is available regardless of immigration status.
A vaccinated individual is considered "fully immunized" 2 weeks after the last dose. When you are fully vaccinated and do not have COVID-19 symptoms, you do not need to quarantine after an exposure to someone with COVID-19.
For more information and frequently asked questions regarding the COVID-19 vaccine for children, please visit the links below:
Getting Your Child Ready for the COVID-19 Vaccine – HealthyChildren.org 
CDC Recommends Pediatric COVID-19 Vaccine for Children 5 to 11 Years
COVID-19 Vaccines for 5-11 year olds (OHA)
COVID-19 Vaccines for 12-17 year olds (OHA)
Please continue to watch our website page for updates and more information