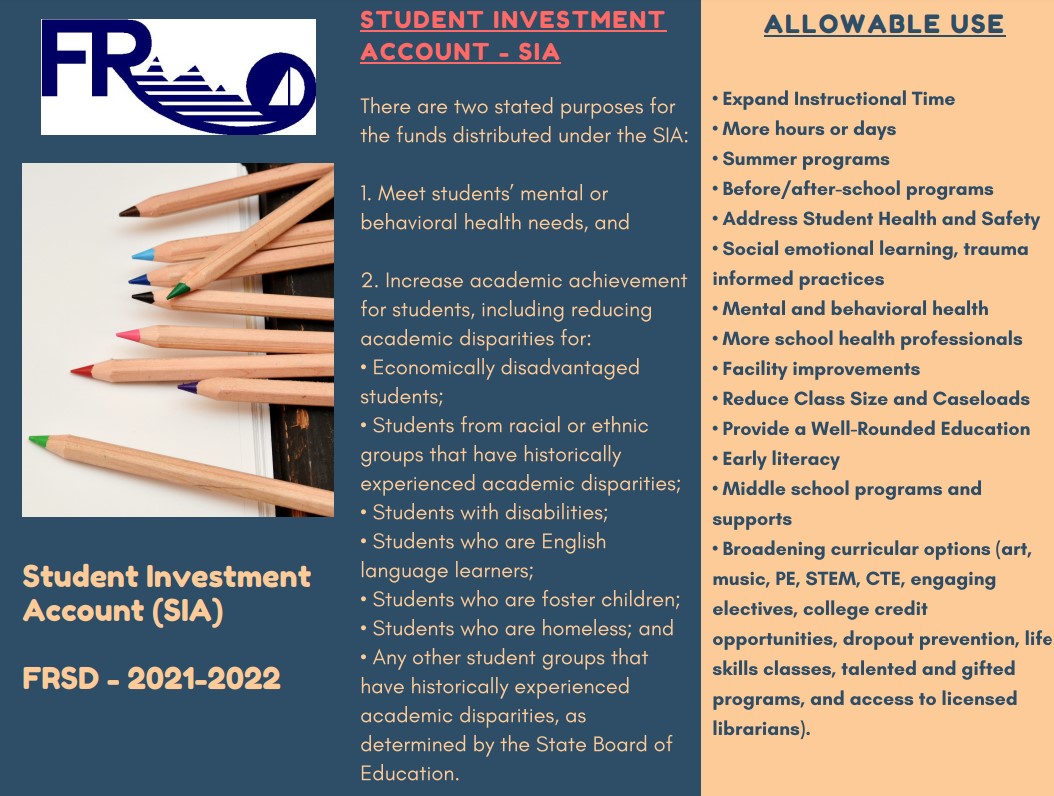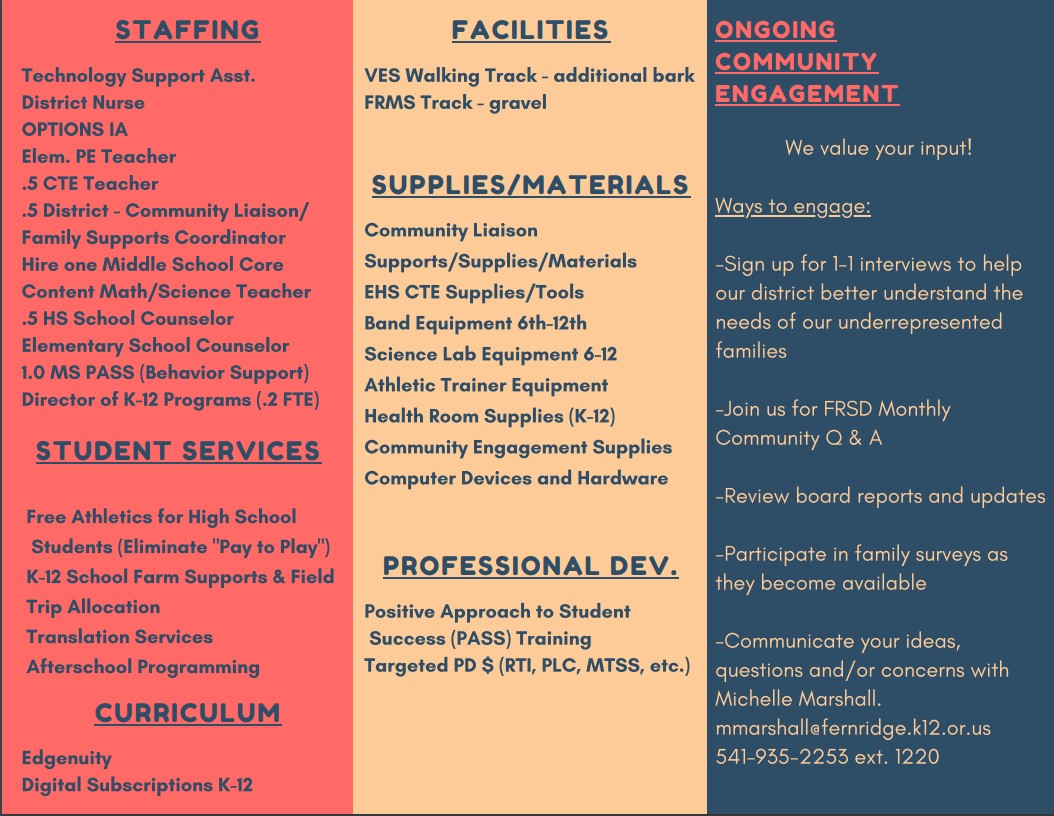 There are two stated purposes for the funds distributed under the SIA:
1. Meet students' mental or behavioral health needs, and
2. Increase academic achievement for students, including reducing academic disparities for:
• Economically disadvantaged students; • Students from racial or ethnic groups that have historically experienced academic disparities; • Students with disabilities; • Students who are English language learners; • Students who are foster children; • Students who are homeless; and • Any other student groups that have historically experienced academic disparities, as determined by the State Board of Education.
ALLOWABLE USE CATEGORIES
Expand Instructional Time
Address Student Health and Safety
Facility improvements
Provide a Well-rounded Education
FRSD Budgeted Items Include:
Staffing 
Technology Support Asst.
District Nurse
OPTIONS IA
Elem. PE Teacher
.5 CTE Teacher
.5 District – Community Liaison/
Family Supports Coordinator
Middle School Core Content
Math/Science Teacher
.5 HS School Counselor
Elementary School Counselor
1.0 MS PASS (Behavior Support)
Director of K-12 Programs (.2 FTE)
Student Services
Free Athletics for High School Students (Eliminate "Pay to Play")
K-12 School Farm Supports & Field Trip Allocation
Translation Services
Afterschool Programming
Curriculum
Edgenuity
Digital Subscriptions K-12
Facilities
VES Walking Track – additional bark
FRMS Track – gravel
Supplies & Materials
Community Liaison Supports/Supplies/Materials
EHS CTE Supplies/Tools
Band Equipment 6th-12th
Science Lab Equipment 6-12
Athletic Trainer Equipment
Health Room Supplies (K-12)
Community Engagement Supplies
Computer Devices and Hardware
Professional Development Opportunities 
Positive Approach to Student Success (PASS) Training
Targeted PD Funds (RTI, PLC, MTSS, etc.)
ONGOING COMMUNITY ENGAGEMENT
Ways to engage in the FRSD SIA Planning Process
We value your input!
-Sign up for 1-1 interviews to help our district better understand the needs of our underrepresented families
-Join us for FRSD Monthly Community Q & A
-Review board reports and updates
-Participate in family surveys as they become available
-Communicate your ideas, questions and/or concerns with Michelle Marshall
mmarshall@fernridge.k12.or.us
541-935-2253 ext. 1220