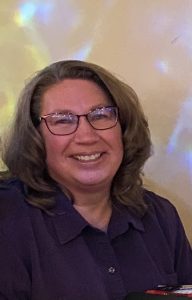 Our June employee of the month has worked for the Fern Ridge School District since August of 2013.  She worked as a media assistant in the library and as a bookkeeper for Elmira High School until the District Office was lucky enough to snag her in 2022.
Julie will take over the Accounts Payable position this July and will manage the purchasing and invoicing for our entire district.
She explained that working at the District Office has been a wonderful experience.
I love the challenges of my job.  I'm always learning something new.  I have really great co-workers and everyone works well together.
Julie and her husband, Bruce just celebrated their 30th wedding anniversary this year!  Their oldest son Jared graduated from Elmira High School in 2017 and their youngest son, Brody is a junior at EHS.
In her free time she enjoys being with her family, having dinner with friends, and enjoys watching movies and sports.  One of her favorite summer past-times is kayaking at Fern Ridge, Horton Pond or on the coast.
She also likes to read, craft and travel…..just enjoying the moments, big or small!
Congratulations Julie!  We're luck to have you on the District Office team!