Michelle Marshall
In lieu of selecting just one employee for the month of August, we would like to thank ALL of our FRSD Summer Program! In just 4 short weeks, connections were made, fun was had, and learning continued for over 200 FRSD students!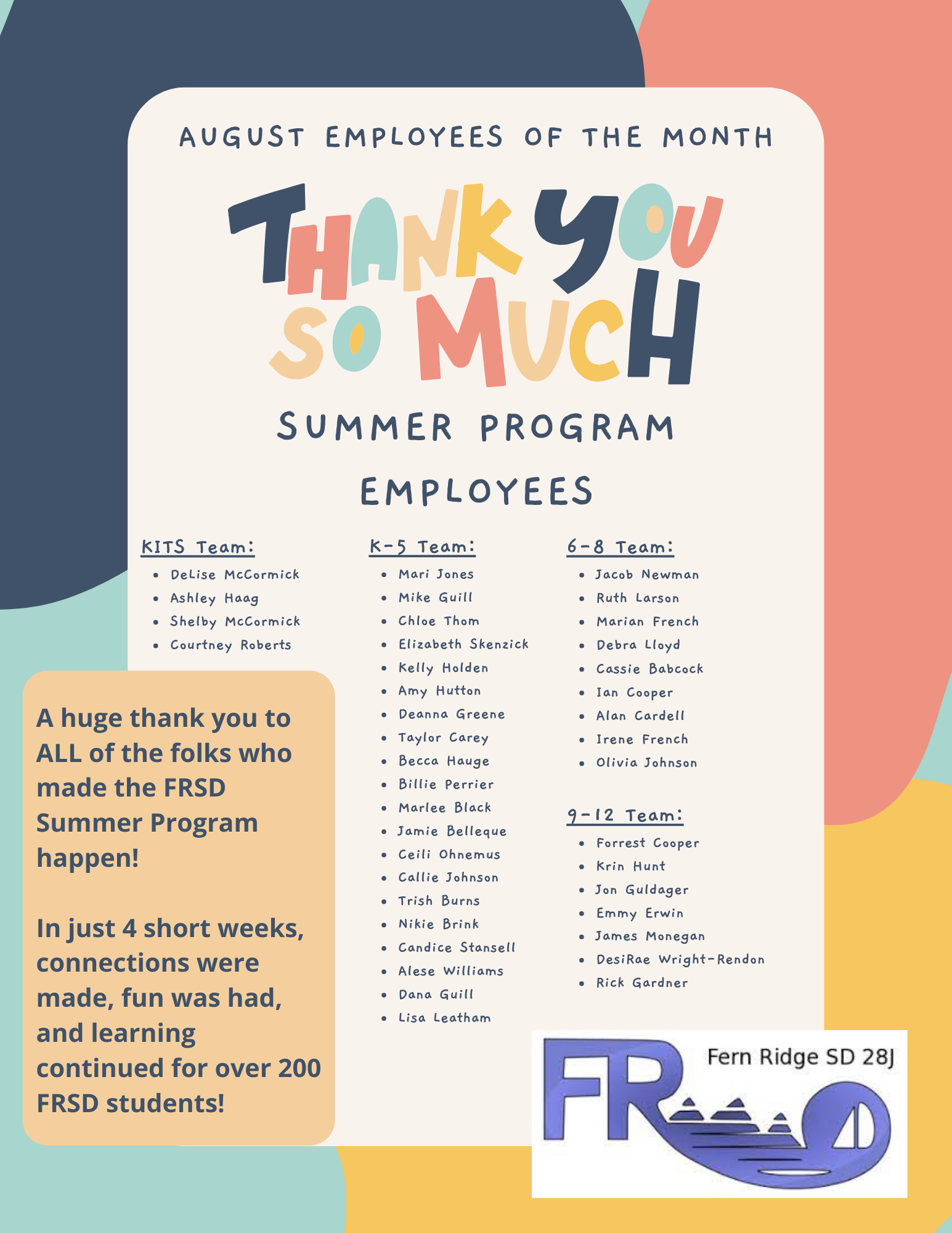 As we prepare to open our doors for the 22-23 school year, there are some important details we would like to share with families in regards to our food services plan for this year. Please see below for more information:
You may qualify for free or reduced meals and can apply online https://www.ode.state.or.us/apps/f
The district is happy to announce that we will be able to continue with FREE BREAKFAST K-12 for the 22-23 school year for ALL STUDENTS. We will be using a portion of our ESSER III $ to fund this for the upcoming year.
Please do not let the free breakfast component deter families from filling out the free/reduced meal application, as this is still very important!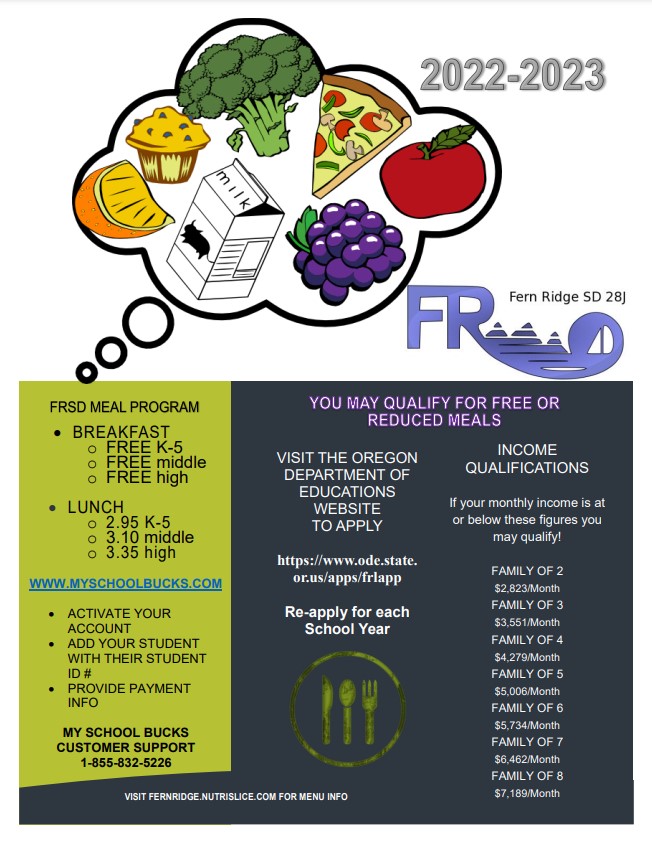 Summer Pool Passes!
All FRSD students have 10 free visits to the Veneta Pool. Students are welcome to share their 10 passes with family/friends. No vouchers needed, pool staff will have a list.
For more information on pool hours and operation, please visit: https://www.venetaoregon.gov/ or call 541-935-4390.
Beginning June 25th, the pool will have free swimwear available for those that need it. Supplies are limited.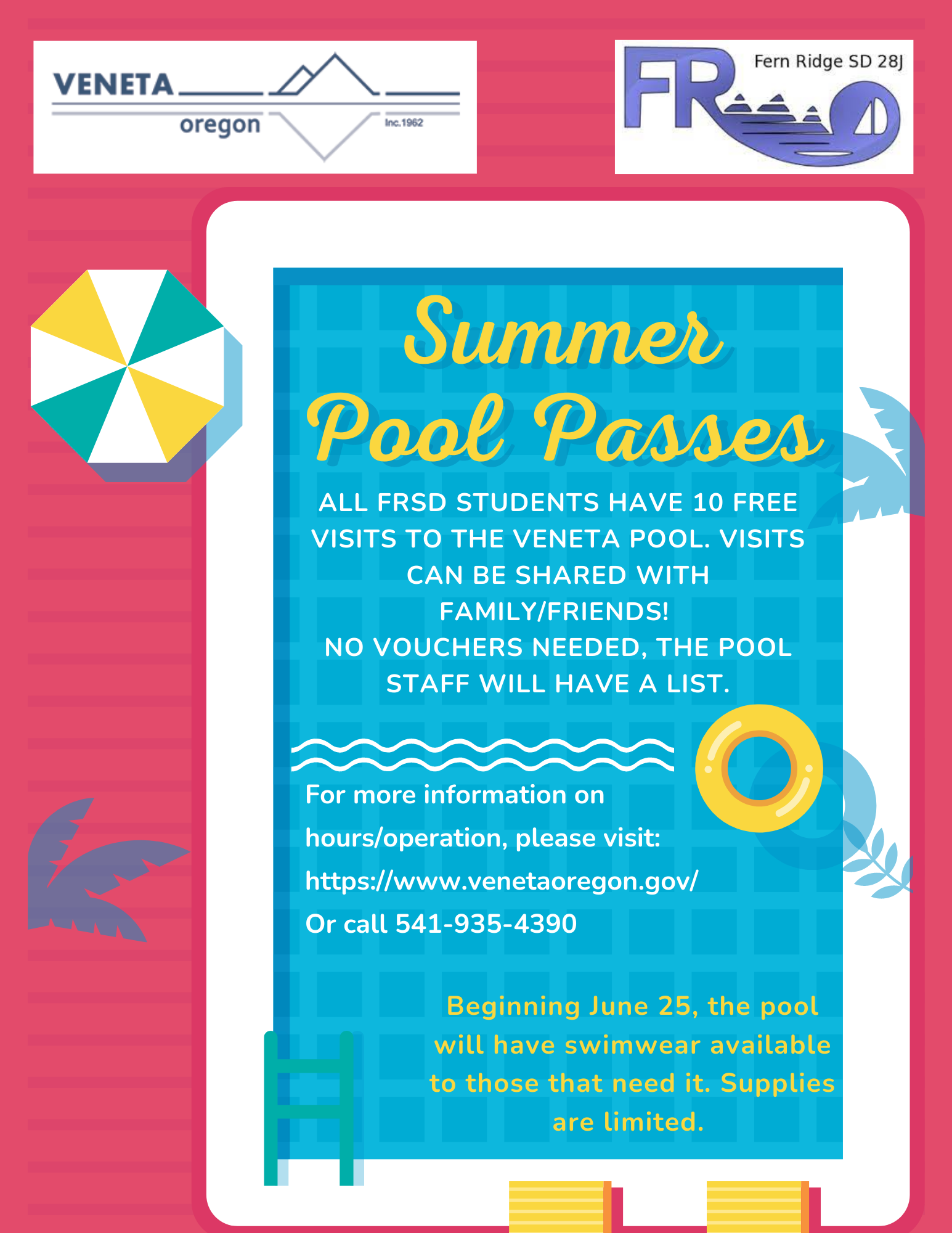 2022 English Language Arts (ELA) Curriculum Adoption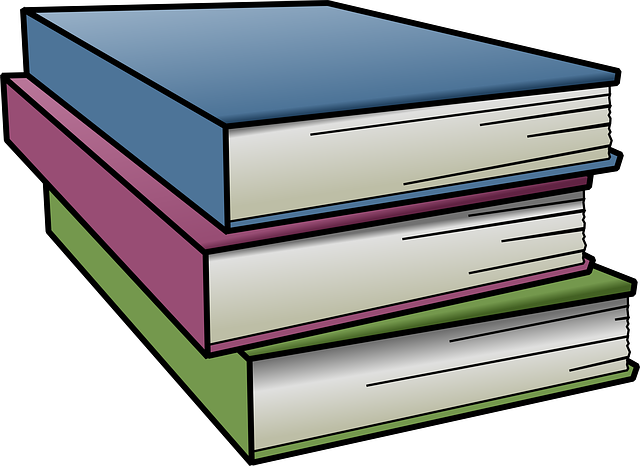 Dear Fern Ridge School District Students, Families, and Community Members:
This year, FRSD will be adopting a new language arts curriculum for K-12 students across the district, designed to meet Oregon's state educational standards and align between grade levels. Curriculum includes the textbooks, materials, and digital resources that support student instruction. Teams from each school including administrators, classroom and special education teachers, intervention specialists, and English language development specialists have been researching programs from various publishers.
Following a rigorous evaluation process, we are excited to share FRSD's recommended curriculum with our families. Feedback from community stakeholders is welcomed.
K-5:      McGraw Hill – Wonders
6-8:      Houghton Mifflin Harcourt – Into Literature
9-12:    Savvas – My Perspectives
If you would like to stop by the District Office to view the materials in person, ask questions, or share your opinions, please feel free set up an appointment.
This FRSD ELA Curriculum Review.pptx outlines our review process and contains links so you can explore additional information, view publisher videos, and more. After reviewing the materials, please complete this survey to share your thoughts.
Thank you for sharing your perspective and partnering with us as we work to adopt and implement the best possible curriculum to support FRSD students' and teachers' needs.
Michelle Marshall
Director of K-12 Programs
541-935-2253, ext. 1220
As we continue forward this school year, it is already time to start thinking about planning activities and finalizing budgets for next year!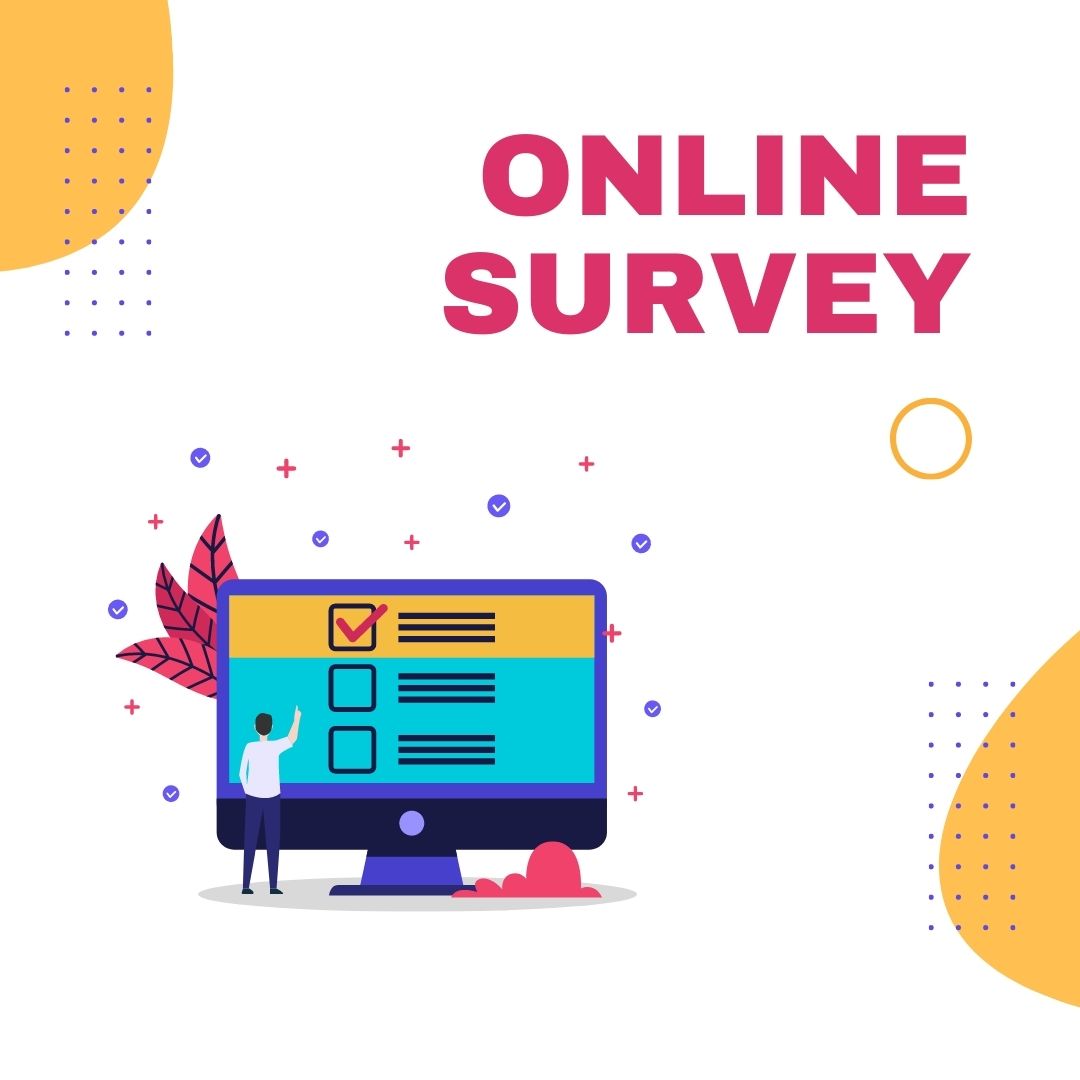 We are asking for our families, staff, and community members to share their input and ideas so that we can build on our past engagement efforts.
Your input helps to guide the planning, direction, and priorities for using Student Investment Account funds.  We will also use this data to make sure our goals are aligned and that we are hearing  perspectives from multiple stakeholders.
Stay tuned— Over the next couple of weeks, the district will prepare its plan for the funds, and share with stakeholders. Continue to check the website for updates!
Please take a few moments to complete the survey below by April 15th:
Thank you so much and we appreciate your time!
Please feel free to reach out if you have any questions, concerns, or would like more follow-up information.
Michelle Marshall
mmarshall@fernridge.k12.or.us
541-935-2253
Over the last six weeks, two families and our school community have experienced tremendous loss with the deaths of two students.  The district has been working with multiple support and partner organizations in recent weeks to support students, staff and families.
As a continuation of these services we would like to invite parents to attend a virtual meeting/forum on Wednesday, December 15th, at 6:30 PM.  Our community is grieving and this informational and support night is intended as an opportunity to hear from experts in this field regarding how parents can best support their children who are coping with grief and loss.  Please see the flyer below for all the information, and share with anyone you think may benefit from attending. Direct Zoom Webinar Link Here   Passcode: 827232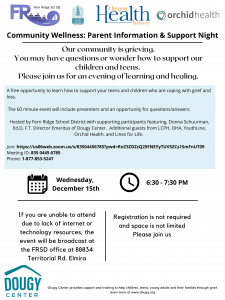 We have been informed of a vehicle accident past Noti. They have closed 126. For all of our families on Bus Route 1 (elementary) and Route 2 (FRMS/EHS). Please expect a phone call and plan to meet at Noti Market. Phone calls will begin with Elmira Elementary families and then proceed with FRMS and EHS families.
It is with great regret that I share with you that an EHS student died on Thursday. Our thoughts and sympathies are with the student's family, friends and our entire community. We cannot share further details at this time. We ask that community members not speculate on the circumstances at this time and encourage everyone to focus on caring for themselves and one another. As we develop our district wide response, we will share further information with you.
All students were given the news of the student's death by staff this morning.
Given that this death occurs on the heels of another student death, we encourage all Fern Ridge community members to check in with one another and their children to discuss how their feeling, how they've been impacted by these deaths and talk about suicide. Children who are already vulnerable may be at greater risk of suicide due to the exposure of the suicide or sudden death of a peer so it is especially important that you check-in with your child.
Heavy feelings of anger or sadness are normal during tragic events. These conditions are treatable. It's really important if you or your child are not feeling well in any way to reach out for help.
Members of our Crisis Response Team and staff from neighboring districts are available to meet with students individually and in groups today as well as over the coming days and weeks. Please contact the school office if you feel your child is in need of additional assistance. If you or your child needs help right away, call the National Suicide Prevention Lifeline at 1-800-273-TALK (8255), call 911, or take your child to the nearest emergency department.
Information about the funeral service will be made available as soon as we have it. If your child wishes to attend, we strongly encourage you to accompany them to the service. If the funeral is scheduled during school hours, students who wish to attend will need parental permission to attend.
If you have any questions or concerns, please do not hesitate to contact me or one of the school counselors.
District Office 541-935-2253
Elmira High School 541-935-8200
Fern Ridge Middle School 541-935-8230
Elmira Elementary School 541-935-8214
Veneta Elementary School 541-935-8225
Sincerely,
Rick Gardner
COVID-19 Vaccination Clinic at Veneta Elementary School
This clinic will be put on by Lane County Public Health especially for our Fern Ridge community!
WHEN:
Tuesday, November 23rd

from 4:00 – 7:00 –

Dose 1

 

Tuesday, December 14th

from

4:00 – 7:00 –

Dose 2
WHERE:  
Veneta Elementary School Cafeteria

   

    

                                                                    
WHO: 
This clinic is for kids aged  5-11 years old  (12-17 year-olds can be vaccinated also if a younger sibling is getting vaccinated). 

Adults will not be vaccinated at this time.

  Lane County is taking appointments at this time and won't be available for drop-in vaccinations. 
HOW:  
Pre-registration required. Sign-ups open the morning of Friday 11/19.

 Use code

FRSDKids

 at

COVID-19 Vaccine Clinics – Lane County

  ("

schedule a vaccine appointment"

–  be sure to select

'pfizer'

when signing up as this is the only brand available to this age group)  (select

'tue'

then

'mobile

' to find the clinic in our neighborhood).  If you try to sign up prior to Friday am the clinic won't show up on their website.

https://lanecounty.org/vaxclinics
*Kids will be considered "fully vaccinated" 2 weeks after the second dose.  
Fully vaccinated children who come into contact with someone who has tested positive for COVID-19 will no longer need to quarantine away from school unless they are experiencing symptoms!
For more information, resources, FAQs, etc., please visit: Fern Ridge School District 2021-2022 School Year.