🎉 🎉 Congratulations to our 2021-2022 Fern Ridge School District Distinguished Service Award Recipients! 🎉 🎉
These outstanding individuals along with other leaders from our community will be recognized at 7:00pm on Thursday, April 14th at the Fern Ridge Service Center.
Rebecca Hauge
Twinkle A. Morton Educational Excellence – Distinguished Teacher
Casey Anderson
Distinguished Classified Employee
Leiisa Boytz
Distinguished Administrator/District Office Group Employee
Maya Trout
Distinguished Volunteer
Shark Zhao
Distinguished Future First Citizen
Clyde Oglesby
Distinguished Community Builder
Alyssa Johnson
Distinguished Emerging Future First Citizen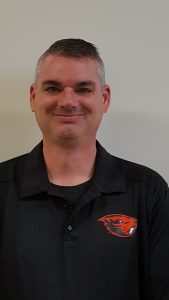 Mike Guill, a teacher at Veneta Elementary since August of 2008, has been selected as our April Employee of the Month!
His day gets started by greeting kids, boosting their spirits, and making the school a welcoming place to be.  He does his best to instill a love of learning in every student that crosses his path.
VES staff members tell us "he works diligently to read with all of his students at their instruction level, regardless of what that is.  He asks for suggestions from other teachers on how to best serve his students, and encourages and supports students' reading in his classroom.  So many students have benefited from him over the years!"
He always quietly encourages staff that he notices are working long hours or he knows are going through a rough patch.  He will anonymously drop off a coffee, a blizzard, chocolate flavored coffee beans, or whatever he feels would make a staff member's day better."
When not teaching and supporting other Veneta Elementary staff members, Mr. Guill is most likely to be found playing disc golf  – he thinks he's terrible at the game but he loves to play!  He enjoys hiking with his wife of 28 years, Fenn, driving through Finley Wildlife Refuge and spotting critters that look like tiny dust balls with legs running across the road (Fenn calls them baby quail) 😉
The Guill's have two daughters, Dana who works at Veneta Elementary School as an instructional assistant and Allison who works at Chintimini Wildlife Rehab.
His favorite thing about his job is "The people I work with because it feels like family rather than a job.  I also love challenging kids to be the best they can be rather than settling for "good-enough"
Thank you for all of the encouragement and support you continue to show students and staff!

APPLICATION TO FILL SCHOOL BOARD MEMBER VACANCY
Position:   School Board Member Position #5
Appointment Requirements:  To be eligible for appointment, the candidate must:
Have lived in the district at least 12 months prior to appointment.
Not be an officer or employee of the district.
Be a registered voter of the school district.
Duration of Appointment: To complete the term of a vacated position until June 2023.  The candidate that is appointed to fill this vacant seat is eligible to run for election in May 2023 to fill out the remaining two years of the Position 5 term.
Duties: Commit to preparing for and attending at least one meeting per month and each budget committee meeting.
The Board will select the appointee as follows:
The candidate should have personal integrity, intelligence and appreciate the values of good education;
The candidate should be willing and capable of assuming responsibilities;
The candidate should have the ability to work with others, should have the courage of his/her convictions, should always vote his/her beliefs and should be a champion of the public schools.
The candidate should be prepared and willing to devote a sufficiently large amount of time to the study of the problems of education in the district, as well as the state and nation at large, so as to be able to interpret them to the electorate;
The candidate must be willing and able to make sacrifices of their time, energy, and knowledge for the benefit of the district.
Application Procedure: This application along with proof of voter registration should be returned to the Board Secretary's Office at the above address or emailed to msmith@fernridge.k12.or.us.  The Board will review applications received by April 8 at 4:00pm.  The Board will select a candidate on April 18, 2022 at the regular board meeting.  Click the link below for a fillable pdf of the application or request a paper copy from Michelle Smith at 541-935-2253 Ext 1203.
As we continue forward this school year, it is already time to start thinking about planning activities and finalizing budgets for next year!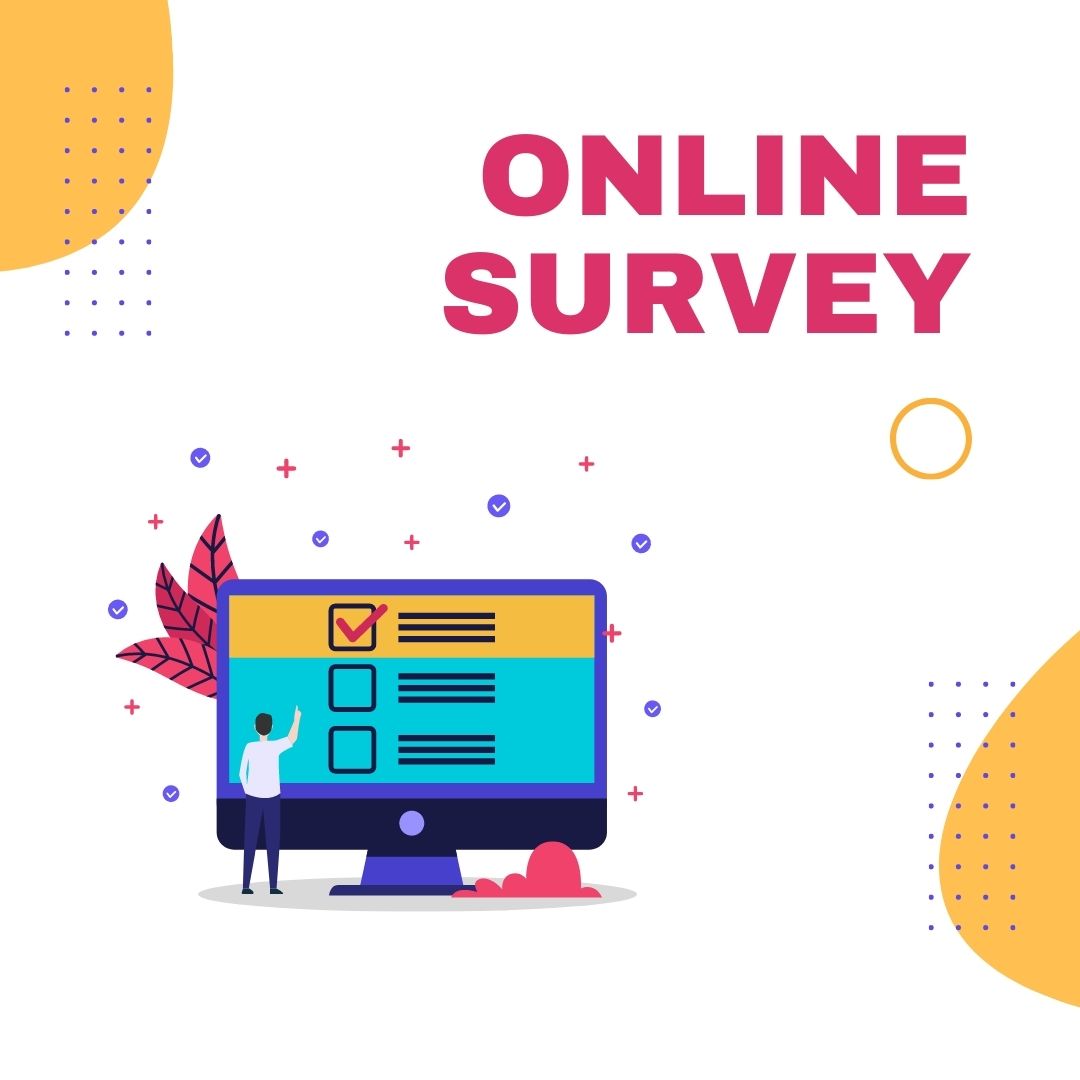 We are asking for our families, staff, and community members to share their input and ideas so that we can build on our past engagement efforts.
Your input helps to guide the planning, direction, and priorities for using Student Investment Account funds.  We will also use this data to make sure our goals are aligned and that we are hearing  perspectives from multiple stakeholders.
Stay tuned— Over the next couple of weeks, the district will prepare its plan for the funds, and share with stakeholders. Continue to check the website for updates!
Please take a few moments to complete the survey below by April 15th:
Thank you so much and we appreciate your time!
Please feel free to reach out if you have any questions, concerns, or would like more follow-up information.
Michelle Marshall
mmarshall@fernridge.k12.or.us
541-935-2253
Below is a flyer that outlines our CDC Community Level Guidance for COVID-19 beginning March 12th. This will be a working document that will continue to be updated as changes occur.   Click here for a .pdf version of the document.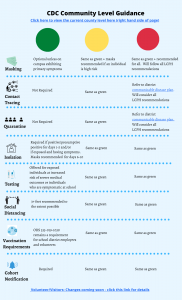 Link Tree:
Click here to view the current county level here (right hand side of page)
Volunteer/Visitors: Changes coming soon – click this link for details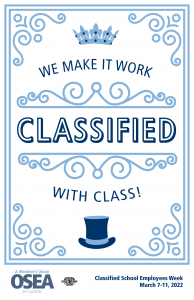 Classified Employee Appreciation Week is celebrated every year during the first full week of March.
Our classified employees are the backbone of our public education system and here in Fern Ridge we have countless examples of excellent Classified Staff members.  Our classified staff work directly with students, educators, parents, volunteers, business partners, and community members.  They support the smooth day to day operation of offices, the safety and maintenance of buildings and property, and direct instruction of students.
Our community depends upon and trusts classified employees to serve the diverse talents and needs of our students.
On behalf of the Fern Ridge School District School Board and all staff in the district, I want to thank our classified staff for their dedication and the work they do each and every day.  You are appreciated.  Please join me in observing and recognizing the hard work of these individuals!
Gary Carpenter, Superintendent, FRSD 28J
Throughout the COVID-19 Pandemic, FRSD has followed all requirements set forth by both OHA and ODE.  On Wednesday, ODE released an update to the COVID health and safety protocols school districts in Oregon are expected to follow beginning on March 12th, the date the mask mandate ends in Oregon for K-12 schools.  Beginning the 12th, the vast majority of COVID mitigation guideline decisions will happen at the local level.
While the District will put out more specific and detailed information prior to the 12th, for now, a brief summary of the new guidelines that FRSD will follow, are listed below:
Contract tracing is no longer required:  FRSD will not require it.
Students who are exposed will not need to quarantine if exposed, unless symptomatic:  FRSD will follow this.  We are still working on the best way to provide notification to parents when their child has been exposed at school.
Students and staff who test positive, or become symptomatic after an exposure, must isolate:  FRSD will follow this exclusion requirement.
Testing:  We will continue to offer testing to families that request it.
Masks are no longer required for staff or students at school or on buses:  FRSD will will not require them.
If you have questions or concerns about the new guidelines, please feel free to contact me at 541-935-2253 or gcarpenter@fernridge.k12.or.us.  A complete update/graphic is in the works that outlines all critical information and will be released soon.
Please remember that there are still some staff and students who will choose to wear a mask within the school setting.  We will respect EVERYONE'S choice and as a District will not tolerate anything short of full support for this choice, as the state mandate is now lifted.
To those that have continued to show grace and patience throughout the pandemic, your support is appreciated.  Our GOAL remains the ability to continue to provide in-person instruction daily while keeping staff and students healthy and at school!  THE SINGLE BIGGEST THING OUR FAMILIES CAN DO TO HELP SUPPORT THIS GOAL IS TO REMAIN HOME WHEN SICK!
We all are looking forward to a return to something more normal, while remaining vigilant to ensure instruction is not impacted in the months to come.
Gary E. Carpenter, Jr. Superintendent, FRSD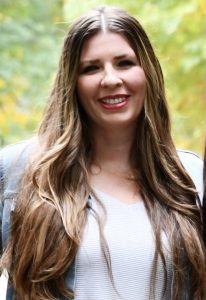 Mandy Storey has been working as a Fern Ridge School District employee since September of 2019, but with all five of her and her husband's children attending FRSD, she really has been a familiar face since 2006!
Currently, you'll get to see Mandy's smiling face in the front office at Elmira High School where she spends most of her day answering phones, assisting parent with questions on everything from sporting events to school schedules to policies.  She works with her student office assistants to show them how to use the phone system and learn office skills they can use outside of school.  She assists administrators and teachers in their daily routines to help make their days go more smoothly, as well as taking daily attendance, putting together morning announcements and welcoming many different substitutes to the building to help out staff.  Mandy is also a very pivotal person in the school's Leadership class helping bring school spirit to all at Elmira High School.
"My favorite part about my job is seeing the students in the morning and welcoming them in with a smile.  I like to ask how their morning is going and hear about their days.  I let them know I'm invested in their success.  So even when it has been a tough morning, I can typically get a smile out of them by letting them know I am HAPPY to see them and that they made my day by being present."
In Mandy's free time she enjoys going to dinner with friends, hiking, being in the outdoors and watching fun movies and TV shows with her family.  She has been married for over 19 years to her husband James and together they have Justice, William, Gracie, Brady, and Scarlett.
Mandy tells us that her all time favorite place to go is the beach.  "Any day at the beach is a great day for me."  She hopes to be able to travel more in her down time and hopes to one day travel the world with her husband.
Thank you Mandy for all you do to help keep Elmira High School running smooth and making it a welcoming place for students!